Crochet and Knit wear is one of Jamaican's heritage past times, my Great Grandmother made everything by hand, from table clothes and curtains to all the families clothes, she developed her own taste and style as one of Jamaica's early design makers, often people all over the parish would seek her to create the latest styles and designs and add her own take (signature Alice) to the form of dress. Often many people on the island handmade their own clothes in the early 1900's, due to a class divide only the very rich would go into 'Town' to have their styles created and tailored for them in the Boutique stores.  Crochet fabric was introduced to Jamaica during British rule, these fabrics would feature as mantle and table wear as what later became known as doilies, doilies to this day are home wear staples to those born of the older generation (1930's), used as table decoration and a way of preserving the life of the home furniture. Doilies protected the wooden furniture from sun damage, scratches etc.  Many grew up with doilies adorned furniture and carried on this tradition throughout their lives.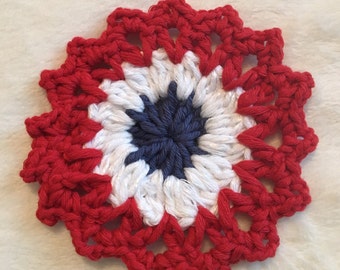 The development of the crochet doilies as a swimwear object is another example to me of the cultural development of Jamaica, taking a everyday object and being versatile with it, our core strength is resourcefulness. Taking something unused or unwanted and giving it a new life and a new purpose, I can see in the development of this style of swimwear that this methodology has been applied.  This Crochet Bikini is a symbol of our past, our ongoing Britishness and British style and taste of the day, and somewhat an Ode to our many years of Colonialism, as a new form of style and dress.
This Iconic Crochet Bikini which developed in the poorest homes of Jamaica, started a wave of street trends immortalised as a Jamaican and Global fashion staple.
Image Credit 1; https://www.tumblr.com/search/rasta%20crochet
Image Credit 2; https://www.etsy.com/pt/search/home-and-living?q=crochet&color=f40b32&customizable=true&gift_card=true